Do you have pain when you stand or walk for too long?
Have you been on the search for the perfect sole inserts?
No need to keep searching, your solution is here!
People with chronic pain and those recovering from injuries find relief when treated with Foot Levelers Custom Orthotics.
Custom orthotics have helped people just like you with their low back pain, knee pain, plantar fasciitis and even neck and shoulder pain.
Why are custom orthotics so important?
The feet are the foundation of the body; they support its entire weight.
If there isn't enough support from the feet, various parts of the body—particularly the spine—are exposed to additional stress, which can lead to a number of unwanted issues.
The combination of manual physical therapy and custom orthotics has been proven to effectively reduce stress throughout the body and restore proper function to the lower extremities.
Relief is not universal!
What works for someone else, may not work for you.
Orthotics are no different. You are not "generic" and in order to find a solution to your problem, you need customized care.
This is exactly what custom orthotics provide.
Conditions Custom Orthotics Treat:
Low Back Pain
Sacroiliac Joint Pain
Knee Pain
Leg Length Discrepancy (replacing a heel lift)
Flat Feet
Plantar Fasciitis
Chronic Ankle Instability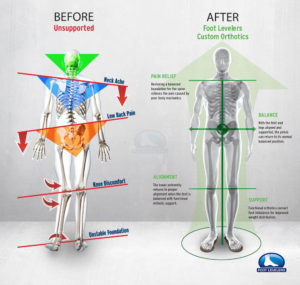 Where can I get scanned for custom orthotics?
We have added an orthotic kiosk to our JGPT Beaches clinic.
This kiosk scans your feet and assesses how you stand. It also tells you where you might have pain in your body based on the way you weight bear through your feet and your standing posture.
Foot Levelers assigns you with a custom made orthotic to add to your current shoes.
They also offer the option to have a custom shoe made just for you, with the orthotic already built in!
It is not just sneakers either… they make orthotics for your work and/or dress shoes.  They even custom make flip flops and sandals for us beach people!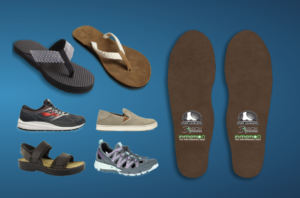 ---
What's Next?
Don't let pain keep you from doing what you love, come on in to see us and get your feet scanned today.
You are one step away from pain-free walking and running!
Call us today to set up a time to get your FREE foot levelers scan: (904)-280-2002
What people are saying about Foot Levelers Custom Orthotics: https://www.footlevelers.com/why-custom-orthotics/testimonials